Another great review for Domata Gluten Free Pizza Crust mix!
The Celiathlete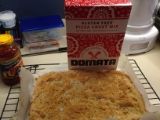 Gluten Free Foccacia Bread made with Domata Gluten Free Pizza Crust Mix
Product: Domata Gluten Free Pizza Crust Mix – $7.99+
It's no secret…I love pizza.  Pizza, to me, is the perfect food.  Honestly.  Some people would probably disagree…but, I ignore them.  Because every thing that is right and good in this world…can happen on a pizza.  Pizza is a basic staple in my diet, especially the night before a big race.  I just have found that if I eat pizza before a half marathon or marathon (or, hell, even the shorter distances), I seem to run better.  I don't know if it's all just in my head, or if I have found that magic food that offers that perfect balance of protein, carbs, and fats that fuel my body on the long run.
Regardless…I love my pizza.  I love to make pizza and order pizza.  Around here, there are…
View original post 1,136 more words